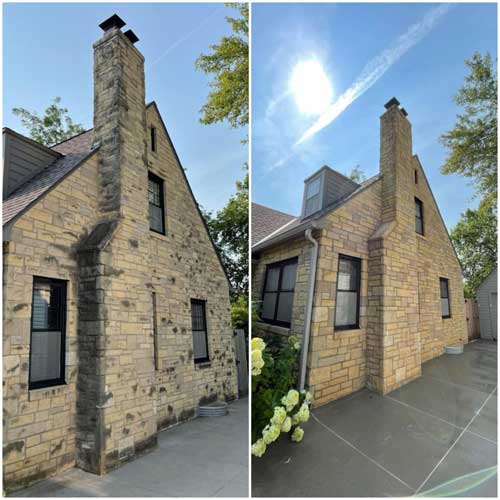 Over years of exposure to natural elements, the exterior of your property accumulates dirt, grime, algae and stains. In many cases, you may not notice these gradual changes until the appearance of the outside of your property needs attention. At Aden Pressure Washing, we are dedicated to restoring the curb appeal and cleanliness of your property's exterior surfaces. We are proud to provide affordable and reliable House Washing Services in Lincoln, NE and beyond.
By using low water pressure and specialized environmentally friendly detergents, our House Washing specialists will meticulously clean your home's exterior surfaces without exposing them to damages. Our team of trained cleaning specialists is equipped with state-of-the-art equipment and technologies to ensure you receive the highest quality service.
We offer a 100% customer satisfaction guarantee, so you know we will do the right thing the first time.
Give us a call at 402-580-1428 to schedule an appointment with one of the courteous and friendly staff.
Why You Should Hire Professional House Washing Services in Lincoln, NE
• Improve Your Home's Curb Appeal
The curb appeal of your home is important, especially if you're thinking about selling your property. A clean house has an amazing curb appeal, which means more people will be interested in buying your home.
• Prevent Damage
Dirt and grime on the exterior of your home not only look bad but can also be destructive. Scheduling professional house washings regularly is a great way to prevent unnecessary damage to the exterior of your property.
• Safe Cleaning Services
A professional house washing service enables you to clean your home's exterior without causing any damage. Our house washing specialists use industrial-grade equipment and specially formulated detergents to remove stubborn dirt and grime without damaging your property.
Your home is one of the largest investments you will ever make. Keep it clean, healthy, safe and looking new with a professional house washing service by Aden Pressure Washing.
Give us a call at 402-580-1428 to schedule an appointment today.